Sacrament of Confirmation 2017-2018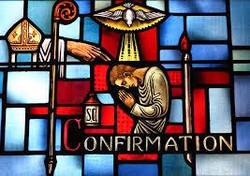 Has your child celebrated the Sacrament of Confirmation?
(Children age 11-Grade 6 or Older)
Registration Meeting: Monday, November 6, 2017 7:00pm at OLPH Parish
or
Monday, January 29, 2018 at 7:00pm at OLPH Parish
You will need to choose 1 mandatory preparation day for children and parents at OLPH Parish.
Saturday, December 2, 2017 12:30-6:00pm
OR
Sunday, March 11, 2018 from 12:30-6:00pm
There will also be a retreat day for Grade 6 students in EICS schools in Sherwood Park. The date is TBA and will be during the school day. Please note this retreat is for students only, parents are not required to attend.
In addition to the preparation day and the retreat there will be 12 sessions to be completed together at home. These will be sent out via email.  
Confirmation will be celebrated at OLPH Parish on Sunday, April 8th 2018 at 2:00pm OR Monday, April 9th 2018 at 7:00pm
Sacraments at OLPH Parish 2017-2018
Did your child miss out on receiving the sacraments of First Reconciliation and First Communion?
It is never too late. Please join us in the 2017-2018 school year. Preparation dates are listed here.
OLPH Children's Choir
Please come out and join us!  All elementary age school children are welcome to join.  Watch the bulletin for more details.
Fore more information, contact Elizabeth at olphchildrenschoir@gmail.com
Altar Servers (Grade 4 and Older)
Are you able to share your time and talents in the service of God and the Church?  Please consider volunteering as an alter server.  
An alter server helps during Mass.  There is a training session to teach you what you need to do.  
If you are interested, please contact the Parish at 780-467-5470.